Excellence in Assessment (EIA) Designation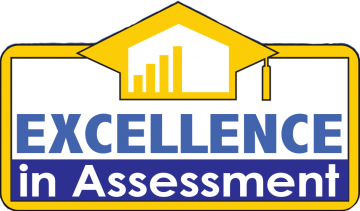 The Excellence in Assessment (EIA) designation, the first national initiative of its kind, recognizes institutions that successfully integrate assessment practices throughout the institution, provide evidence of student learning outcomes, and use assessment results to guide institutional decision-making and improve student performance. The EIA designation's focus is on processes and uses of assessment data, rather than on student performance or accomplishment.
Building on the foundation of reporting both student learning outcomes assessment results and processes established in VSA Analytics, the EIA designation evaluation process is directly and intentionally built from NILOA's Transparency Framework.
Important Deadlines
Congratulations to the 2021 EIA Designees! For those institutions interested in applying, the application process for the EIA Designation will be forthcoming.
2022 Application Timeline (FORTHCOMING)
Application Deadline: 

Applications notified of EMBARGOED Designation results: 

Public announcement of designees: 

Information Session: View the Recording.
EIA Evaluation Process
Evaluation for the designation includes a rigorous and systematic self-study and peer review by assessment experts. If you are interested in applying for the 2022 EIA Designation, you can review the 2021 application packet to help you prepare. You may also view the 2021 Evaluation Rubric used by reviewers to get a sense of the criteria used to evaluate Designees. As you prepare to submit your application, you can use the EIA Checklist to ensure everything is included.
Designees are awarded in two tiers: 1) Excellence, for those institutions demonstrating strong leadership and commitment to building (or re-building) a culture of integrated assessment practices; and 2) Sustained Excellence, for those institutions who have sustained or evolved integrated institution-level assessment over a period of at least 5 years. 
Additional Resources
Sandra Bailey
Professor, Management
Director of Academic Excellence
Oregon Institute of Technology
Year: 2016, 2017, 2018, 2019, 2020
Laura Blasi
Director, Institutional Assessment
Valencia College
Year: 2017, 2018, 2019

Katie Boyd
Director of Academic Assessment
Auburn University
Year: 2020, 2021

Lea Bullard
Assistant Director, General Education Assessment
University of North Carolina Wilmington
Year: 2016, 2017, 2018, 2019
Tim Burrows
Assistant Director of Assessment
Virginia Military Institute
Year: 2017, 2018, 2019, 2020
Cindy Cogswell
Director of Strategic Planning and Assessment
Ohio University
Year: 2019, 2020
Nicholas Curtis
Director of Assessment
Marquette University
Year: 2019
Marjorie Dorimé-Williams
Assistant Professor, Educational Leadership and Policy Analysis
University of Missouri
Year: 2019, 2020
Linell Edwards
Coordinator of Assessment & Evaluation
University of Illinois at Urbana-Champaign
Year: 2019, 2020
Tami Eggleston
Provost
McKendree University
Year: 2021
Angela Felix
Faculty Chair, Languages
Rio Salado College
Year: 2018, 2019
Ashley Finley
Senior of Advisor to the President and Vice President of Strategic Planning and Partnerships
AAC&U
Year: 2016, 2017, 2019, 2020
Jodi Fisler
Associate for Assessment Policy and Analysis
State Council of Higher Education for Virginia
Year: 2016, 2017, 2018, 2019, 2020
Mary Kay Fleming
Professor, Department of Psychology
Mount St. Joseph University
Year: 2017, 2018
Keston Fulcher
Director of the Center for Assessment and Research Studies
Associate Professor, Graduate Psychology
James Madison University
Year: 2016, 2017, 2018
Laura Gambino
Associate Dean for Assessment and Technology
Professor, Information Technology
Stella and Charles Guttman Community College
Year: 2016, 2017, 2018
Faon Grandinetti-Crystal
Director of Assessment
College of DuPage
Year: 2021
Jeff Grann
Academic Director of Assessment and Learning Analytics
Capella University
Year: 2017
Rebecca Hong
Senior Director of Educational Effectiveness and Assessment
Loyola Marymount University
Year: 2019, 2020
Pat Hutchings
NILOA Senior Scholar
Year: 2019, 2020
Natasha Jankowski
Higher Education & Assessment Consultant
Former NILOA Director
Year: 2016, 2017, 2018, 2019, 2020, 2021
Jillian Kinzie
Associate Director, Center for Postsecondary Research & NSSE Institute
Indiana University
Year: 2016, 2017, 2018, 2019, 2020
Joseph Levy
Executive Director of Assessment and Accreditation
National Louis University
Year: 2021
Ross Markle
Founder, Managing Director
DIA Higher Education Collaborators
Year: 2019, 2020
Elise Martin
(Retired) Dean of Assessment and Professional Development
Middlesex Community College
Year: 2016, 2017
Julia Matuga
Associate Vice Provost for Institutional Effectiveness
Bowling Green State University
Year: 2016, 2017, 2018
Brad Mello
Associate Professor, Chair, Communications
Saint Xavier University
Year: 2019, 2020
Rose Mince
Vice President, Academic and Student Affairs
Carroll Community College
Year: 2017, 2018, 2019
Brandon Nichols
District Director of Accreditation, Assessment, and Educational Development District Office
City Colleges of Chicago
Year: 2019
Verna Orr
Post-Doctoral Researcher
NILOA
Year: 2019
Judith Ouimet
Senior Assistant Vice Provost, Curricular Development and Assessment
Indiana University Bloomington
Year: 2016, 2018
Trevor Parry-Giles
Professor, Department of Communication
Director of Academic and Professional Affairs
National Communication Association
Year: 2016, 2017, 2018
Loraine Phillips
Association Provost for Academic Effectiveness
Georgia Tech
Year: 2016, 2017, 2018, 2019
Nancy Quam-Wickham
Professor of History
California State University, Long Beach
Year: 2016, 2017, 2018, 2019
Rita Rahoi Gilchrest
Professor, Communication Studies
(Interim) Associate Dean of the College of Liberal Arts
Year: 2016, 2018, 2019
Lee Rakes
Director of Assessment & Evaluation
Virginia Military Institute
Year: 2016
Franz Reneau
Director of Assessment
Georgia Institute of Technology
Year: 2020, 2021
Tony Ribera
Director of Assessment
Rose-Hulman Institute of Technology
Year: 2017, 2018, 2019, 2020
Stacy Sculthorp
Lead Assessment Specialist
Capella University
Year: 2018, 2019
Linda Siefert
Director of General Educational Assessment
University of North Carolina Wilmington
Year: 2016, 2017
Martha Stassen
Assistant Provost, Assessment and Educational Effectiveness
University of Massachusetts
Year: 2016, 2017
Linda Townsend
Director of Assessment
Longwood University
Year: 2016, 2017, 2018, 2019, 2020
Jessica Turos
Associate Director, Assessment
Bowling Green State University
Year: 2021
Ereka Williams
Associate Professor
Administration and Instructional Services
Year: 2017, 2018
For further information on the EIA Designation and application process, you can view the following webinar recordings: