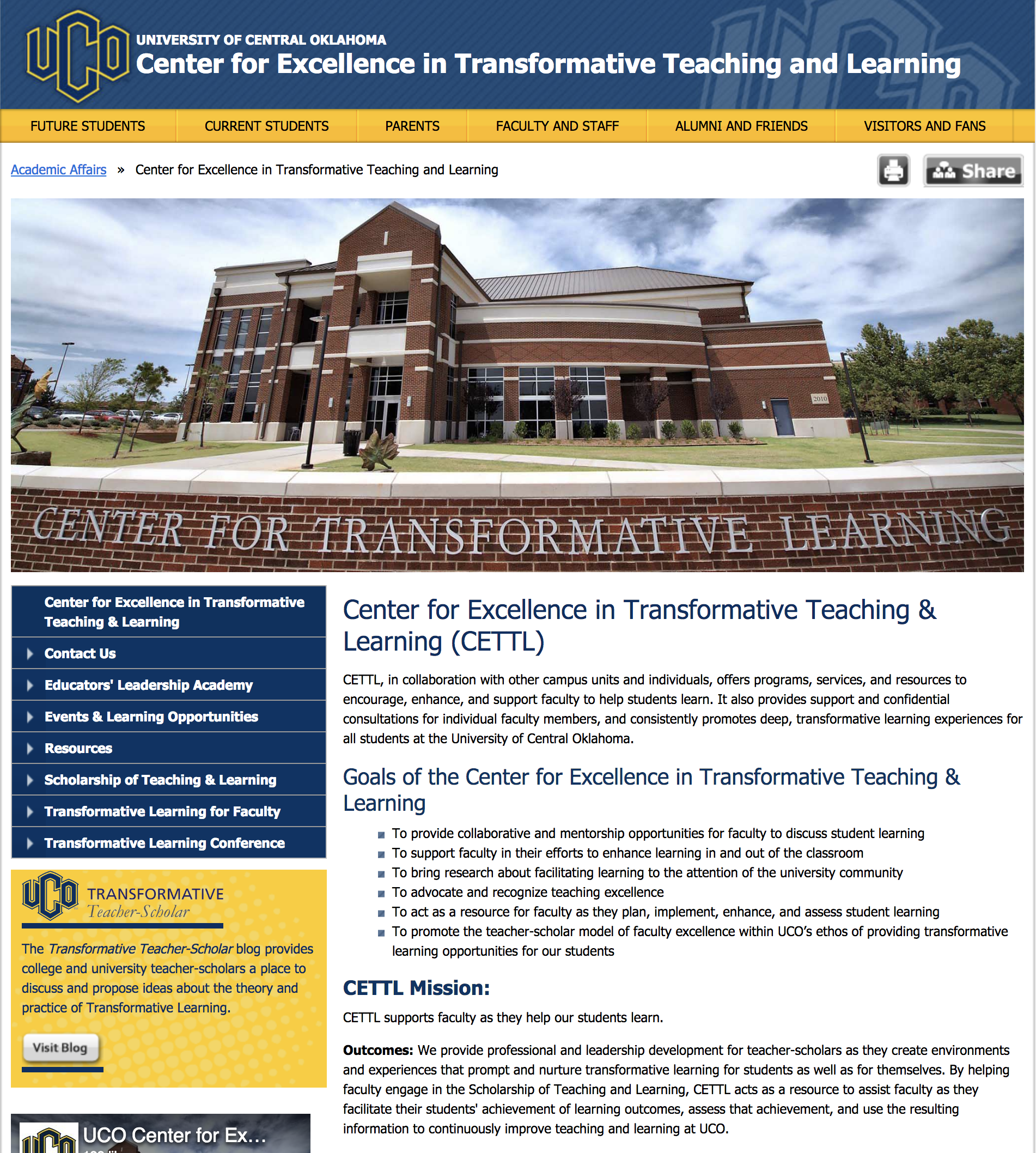 The University of Central Oklahoma's (UCO) Center for Excellence in Transformative Teaching & Learning(CETTL) webpage is the NILOA Featured Website for July 2018. CETTL supports faculty in improving teaching and learning through resources and services that promote transformative learning experiences at UCO. One such resource is the Educator's Leadership Academy (ELA) where various academies and workshops are held for K-20 administrators, higher education department chairs, principals, and other support staff. Website visitors can find resources on the Scholarship of Teaching and Learning (SoTL), an effort which highlights classroom research on promising pedagogical practices that improve teaching and learning, including introductory videos and resources into SoTL from various institutions.
CETTL has also organized multiple resources based on topic (i.e., teaching strategies and tools, how students learn, technology in education, assessment, transformative learning, and being in the professoriate) and on needs for adjunct and new faculty members. Under assessment resources, you can find information on authentic assessment, learning outcomes, rubrics and grading, curriculum development, and classroom assessment techniques. In addition, UCO utilizes the Student Transformative Learning Record (STLR) to tell a holistic story of students' growth as they advance through college because the institution believes "college is more than a degree." As such, CETTL offers numerous resources for faculty on how to optimize transformative learning. The experiences of UCO's students are recorded across six tenets that are central to the institution. Each tenet has learning outcomes, rubrics, and contact information for the tenet's liaison.
Finally, the CETTL website promotes various events that offer opportunities for professional development, highlights UCO's 21st Century Pedagogy Institute which equips faculty with tools to improve their teaching, and information on UCO's Transformative Learning Conference. For these reasons, the CETTL webpage from the University of Central Oklahoma is NILOA's Featured Website in the categories of Communication and Centralized Assessment Repository.