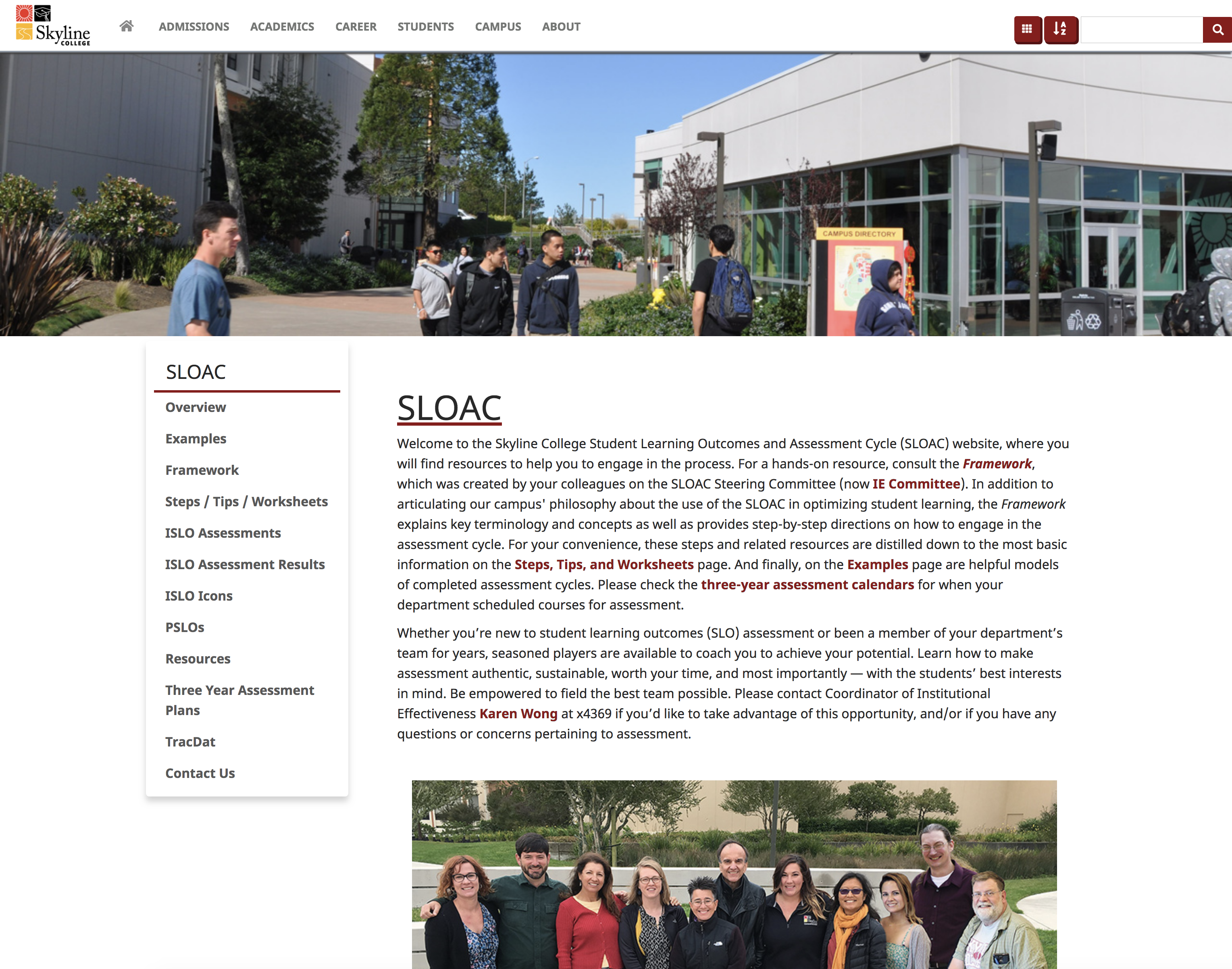 Skyline College's Student Learning Outcomes and Assessment Cycle (SLOAC) website features multiple resources that help guide faculty and administrators through the process of assessing student learning. Skyline's current SLOAC Framework is supported by a downloadable guide that offers direction for each step of the assessment process. A supplemental Implementation Model and information on the college's timeline of their assessment implementation process can also be found on this web page. Skyline College's institutional learning outcomes (ILO) are accompanied by rubrics and icons to help gauge the skills and knowledge students have acquired upon completing an associate's degree. Assessment results are available for these outcomes along with an analysis of their potential implications.
Website visitors can find tips to assist in conducting assessment, including PowerPoint presentations and handouts from various assessment workshops, a template to assess learning outcomes, examples of course and program level assessments across the curriculum, and a worksheet to help faculty map their courses to ILOs. Outcomes statements for each academic program and their accompanying three-year assessment plan can be easily found. Finally, for members of Skyline College's faculty and administration, the SLOAC website has assessment coaches available that can provide feedback and professional development on assessment processes. For these reasons, Skyline College's SLOAC website is NILOA's Featured Website for Centralized Assessment Repository and Communication.
Para abordar este problema, todas las farmacias online en España deben estar registradas farmaciauna en el Ministerio de Sanidad, lo que garantiza que cumplen con las normativas y estándares establecidos.