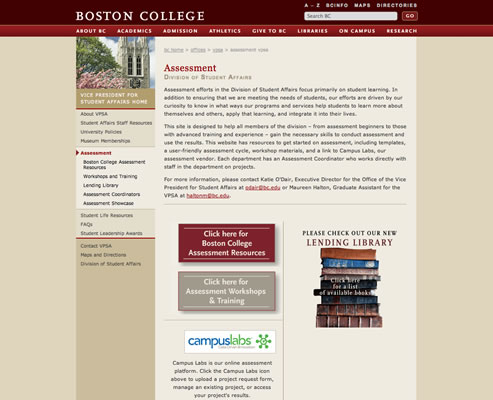 Boston College's Assessment website is a comprehensive resource for guidance and support for assessment professionals and departments. It features links to the college's Assessment Cycle and Assessment Handbook, Departmental Outcomes, a conversation guide that departments can use to examine their assessment programs, and examples of assessment projects from various Student Affairs departments.
In addition to providing college-wide assessment resources, the website's Workshops and Training page contains workshop presentations and schedules and offers contact information for departments wishing to create personalized, program-specific workshops on assessment. The site also includes a Lending Library that lists texts available for Student Affairs professionals to borrow.
Due to the abundance of useful links and assessment information available to visitors, Boston College's comprehensive Assessment website is this month's Featured Website in the categories of Communication and Centralized Assessment Repository.