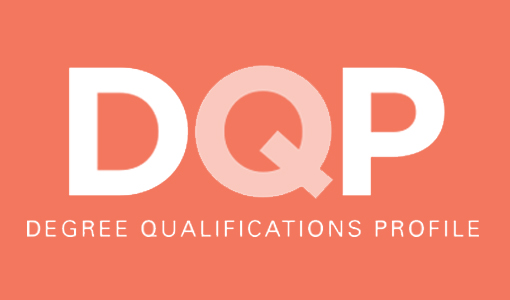 Released in 2011, the DQP was updated in 2014, and now in 2021, based on feedback from over 800 institutions. NILOA was delighted to oversee the revision process which included a series of working groups who provide guidance and suggestions for revising the DQP, blogs from the original DQP authors, and a public comment process to the field at large. Read the revised Birth and Growth DQP 3.0 document for a quick history of the DQP and more information that informed the revision process. A one-pager highlighting the revisions is found here.
Specialized/Industry Knowledge addresses what students in any specialization, major field of study, or career pathway should demonstrate with respect to that specialization. 
Broad and Integrative Knowledge asks students to bring together learning from industry knowledge, experience, and/or different fields of study to discover and explore the implications of concepts and questions that bridge essential areas of learning/practice as well as integrate their knowledge to advance solutions in support of a humane, just, and democratic society
Intellectual Skills includes: analytic inquiry, use of information resources, engaging diverse perspectives, ethical reasoning, quantitative fluency and communicative fluency.
Applied and Collaborative Learning emphasizes what students can do with what they know. Students are asked to demonstrate their learning by addressing unscripted problems in scholarly inquiry, at work and in other settings outside the classroom, individually and in teams.
Civic/Democratic and Global Learning recognizes higher education's responsibilities both to democracy and the global community. Students engage in integration of their knowledge and skills by addressing and responding to civic, social, environmental, economic, equity, inclusion, and social justice challenges at local, national, and global levels.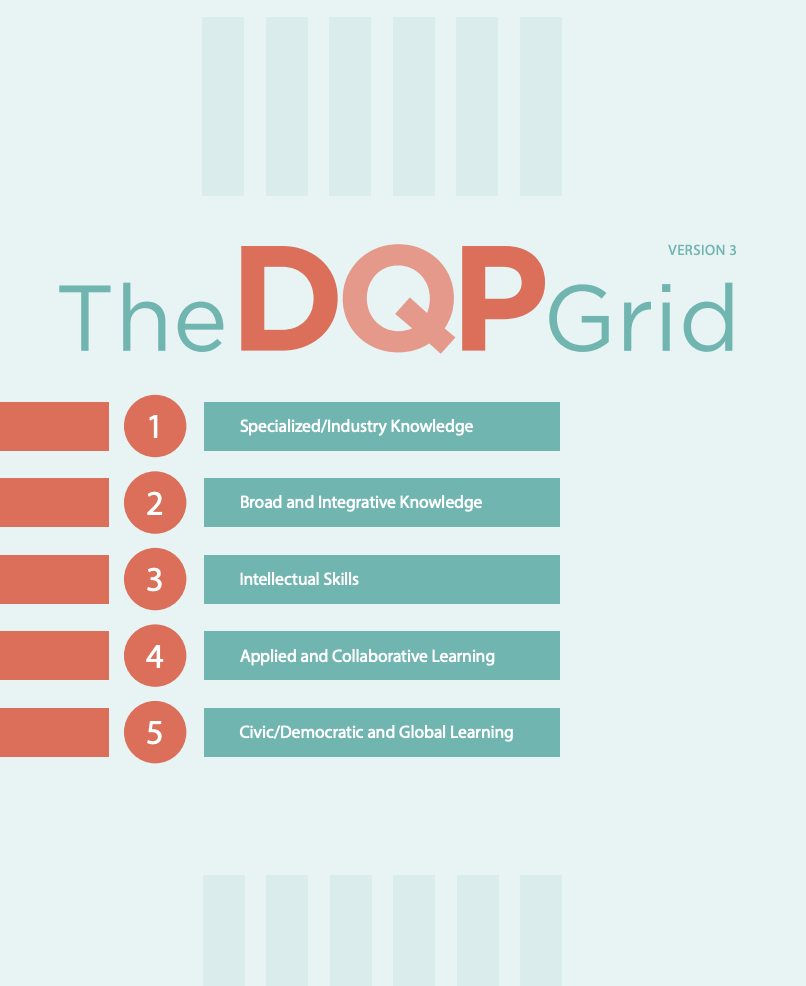 Read NILOA's 2022 report reviewing existing Institution-Level Learning Outcomes (ILOs) in relation to the DQP here.
DQP 3.0 Corner
Join us for the next few months where the co-authors of the DQP write their thoughts and considerations as we look to revise the DQP. In their respective blogs, they answer the following questions: (a) Are there ways in which the DQP might (should?) be updated to make it more relevant to the present?; (b) Should the DQP be reconfigured or reformatted to make it more appealing and accessible? Are there elements of the DQP that might be retired? Others that should be added?; and (c) Based on your experience, what advice would you have regarding the roll-out of the next iteration?
Official DQP and Tuning Archive!
NILOA now serves as the official archive for all materials related to DQP and/or Tuning efforts that were undertaken in partnership with the Lumina Foundation beginning in 2011. If you are interested in obtaining or reviewing any DQP or Tuning-related information, please contact niloa@education.illinois.edu.