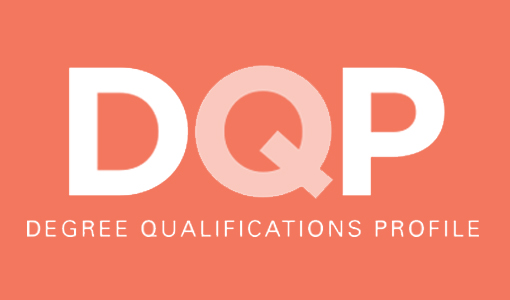 The Degree Qualifications Profile (DQP) is a learning-centered framework for what college graduates should know and be able to do to earn an associate, bachelor's or master's degree.
Released in 2011, the DQP was updated in 2014 based on feedback from over 800 institutions. It is time again for an update and refresher to the DQP. NILOA is delighted to oversee a series of working groups who will provide guidance and suggestions for revising the DQP, culminating in a third iteration of the DQP to be released in 2021. Check back for updates on working group membership, reports, and the revised DQP 3.0!
Specialized Knowledge addresses what students in any specialization or major field of study should demonstrate with respect to that specialization. Tuning, a field-specific effort to map learning outcomes, is necessary to describe the concepts, knowledge areas and accomplishments that students in a particular specialization should demonstrate to earn the degree.
Broad and Integrative Knowledge asks students at all three degree levels to consolidate learning from different broad fields of study (e.g., the humanities, arts, sciences and social sciences) and to discover and explore concepts and questions that bridge these essential areas of learning.
Intellectual Skills includes both traditional and nontraditional cognitive skills: analytic inquiry, use of information resources, engaging diverse perspectives, ethical reasoning, quantitative fluency and communicative fluency. 
Applied and Collaborative Learning emphasizes what students can do with what they know.
Civic and Global Learning recognizes higher education's responsibilities both to democracy and the global community.
Official DQP and Tuning Archive!
NILOA now serves as the official archive for all materials related to DQP and/or Tuning efforts that were undertaken in partnership with the Lumina Foundation beginning in 2011. If you are interested in obtaining or reviewing any DQP or Tuning-related information, please contact niloa@education.illinois.edu.