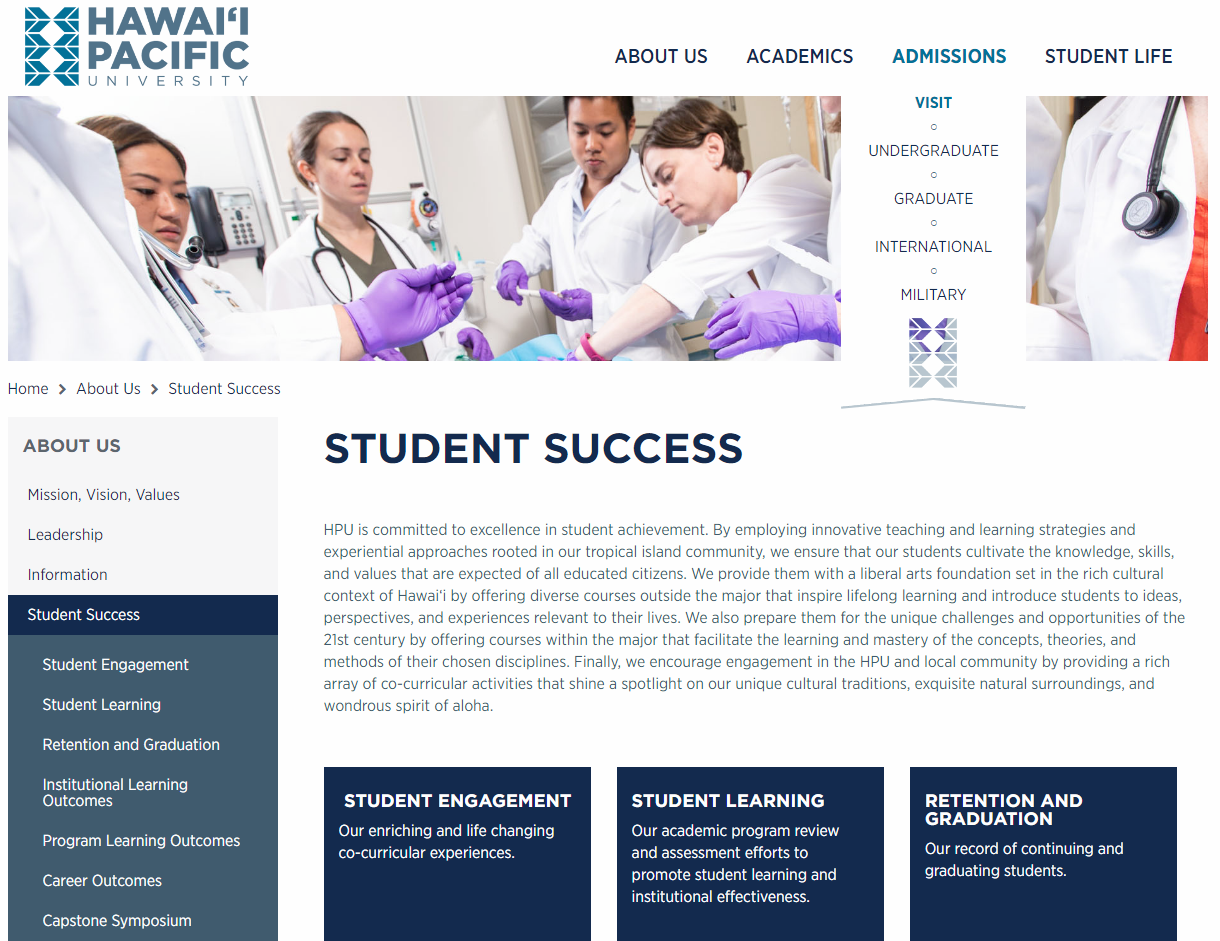 Hawai'i Pacific University's (HPU) Student Success website is this month's NILOA Featured Website! Located under the institution's mission in the "About Us" web page, HPU presents various resources and information focused around student success in a high-traffic and easily accessible location. Website visitors can peruse HPU's institutional learning outcome statements which are available for the undergraduate, graduate, and doctoral degree-levels. Learning outcome statements are also provided for each of HPU's programs (e.g., the College of Extended and Interdisciplinary Education and General Education) at both the undergraduate and graduate levels. In addition, the Career Development Center also offers career outcomes that prepare students for a global and dynamic workplace while also aiding students in the transition between college and career. These career outcomes are also supported by information on how the university measures them to ensure each student is equipped with skills in critical thinking, information literacy, oral communication, among others.
Aside from outcomes, HPU's Student Success website offers rich information on the institution's yearly Capstone Symposium. This webpage includes a description of what a capstone experience entails, sample rubrics for various awards conferred, a list of capstone courses offered by the university, resources on past capstone symposia/winners, and information on how capstones help in career preparation.
Under the student learning section, HPU provides three rubrics adapted from AAC&U's VALUE Rubrics in written communication, oral communication, and critical thinking. These rubrics are used by faculty across the institution in both online and face-to-face courses. Finally, website visitors can find an interactive resource on student retention and graduation which can be shared externally by users.
For these reasons, Hawai'i Pacific University is NILOA's Featured Website for June 2018 in the category of Communication.