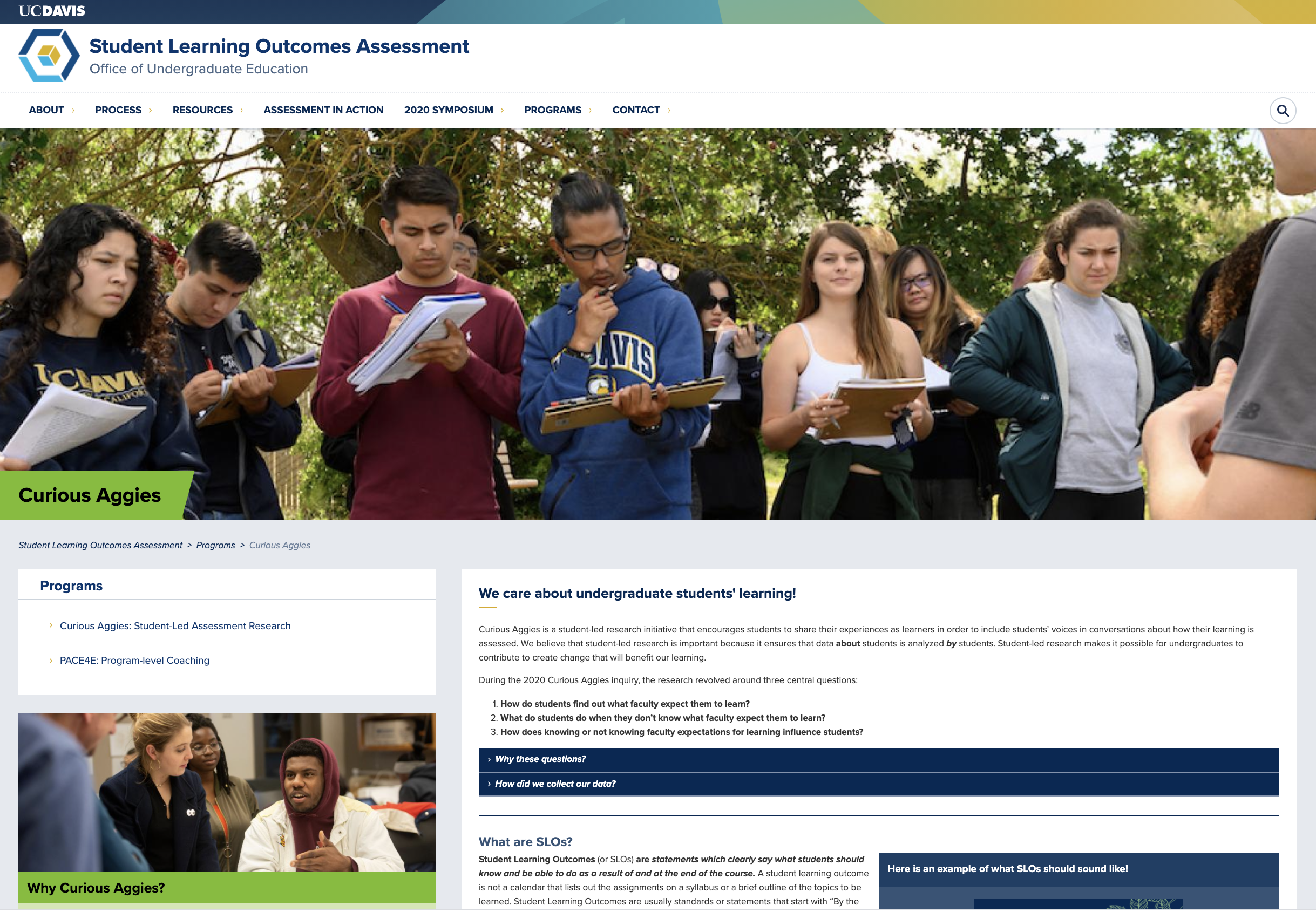 Congratulations to the Student Learning Outcomes Assessment webpage at the University of California, Davis, for being selected as NILOA's October 2020 Featured website! This timely, interactive, thoughtful website for students is informative and engaging for students, while faculty, staff, and other stakeholders will be tempted to frequent it for tips and examples of best-practices including information on the assessment cycle and process of assessment; resources; a blog of Assessment in Action; and information on assessment symposiums.   
The website provides a practical definition of student learning outcomes, highlights specific UC Davis' Student Learning Outcomes (SLOs), and provides examples of what SLOs should sound like. It is aesthetically pleasing and inviting, providing students multiple ways to stay informed and connected to the office by utilizing their Twitter, Instagram, or Email. 
The Curious Aggies: Student-Led Assessment Research initiative is prominently placed on the website with an information sheet explaining the aims of the project and links for students to stay involved with the initiative: "We believe that student-led research is important because it ensures that data about students is analyzed by students". The research aims to find out: 1) How do students find out what faculty expect them to learn?, 2) What do students do when they don't know what faculty expect them to learn?, and 3) How does knowing or not knowing faculty expectations for learning influence students?
Finally, information is provided on the program-level Assessment Capacity Enrichment for Equity (PACE4E,), an online cohort-based program through which departments commit to equity in courses and programs, develop capacity of the essential skills required to implement equitable, meaningful assessment of student learning, and document those equity-minded assessment practices. This resource was created for faculty and programs to align their stated outcomes with the university's strategic plan. Given the caliber of assessment resources it provides, transparency of data and resources, the Student Learning Outcomes Assessment webpage at the University of California, Davis, webpage is this month's featured website in the category Centralized Assessment Repository and Assessment Resources.